19.07.2007
Autumna Software et verdrahtet.net ont convenu de coopérer pour localiser et commercialiser ScanOUT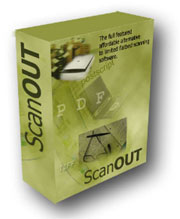 ScanOUT est un logiciel pour scanner très compétitif, destiné à être utilisé à la place soit du logiciel livré généralement avec le scanner, soit des programmes de numérisation ayant un caractère fonctionnel restreint. ScanOUT permet d'archiver rapidement et confortablement tous documents sur papier dans les formats de fichier PDF, TIFF ou PostScript.
ScanOUT était jusqu'ici disponible en anglais, français, espagnol et portugais. verdrahtet.net va maintenant y adjoindre la version allemande et en sera le distributeur exclusif dans les pays germanophones.
---
31.08.2006
Providing full IT services for Ultra Tube GmbH

Ultra Tube GmbH is a start-up company making business in the range of industrial pure media and vacuum technology. From the Berlin head office the company's customers are served allover Germany.
In the context of a consulting discussion first - before any contract was signed - a comprehensive analysis of the needed IT services has taken place. With a custom-tailored offer of services then the management of Ultra Tube was convinced.
In detail, verdrahtet.net is providing full E-mail communication (SMTP / POP3) as well as design, maintenance and web hosting of it's Internet web site. verdrahtet.net has furnished a reasonable state-of-the-art local area network (LAN) on Gigabit Ethernet technology at the head office of Ultra Tube GmbH.

The desired file server is accessible at 1000 Mbps in the LAN too. It is running a Linux (kernel 2.6) with a software licence free of charge. For reasons of data loss safety the server is equipped with two hard disks forming a Raid-1 array. Also to protect the saved data from inadvertent deletion, the server is secured by an unattended backup solution. Furthermore the server has functionality to create PDF files over the network (Ghostscript 8). Network clients therefor simply have to print documents to be converted into a shared virtual printer on the server. Finally clients can synchronize their computer time automatically with that of the server over NTP. At Ultra Tube everybody has now the same time.
In the context of a maintenance agreement it is cared for the network, the server, the Windows clients and the printers.
---
26.08.2006
Office programming for master painter Frank Steinhäuser, Berlin
Master painter Frank Steinhäuser used to create bills for his customers with a spread-sheet program and very much manual input. Today he is still using the same program, but while the spread-sheet application creates the bills he leans back completely relaxed. Due to a suitable programming of verdrahtet.net manual input could significantly be cut, mulitple editing of the same content does not waste his time anymore. Mr. Steinhäuser needs now less time for his accounting but has more time to care for his customers.
---
17.07.2006
DATENSTRUDEL goes online - relaunch of their redesigned web site
DATENSTRUDEL is a creative duo, acting in the range from art to commerce, from animation to movie, from new to old media. verdrahtet.net has completely reprogrammed their web site for a suitable presentation of their very different projects on the Internet.
Focus of the redesign was on the one hand to show a clear overview of the whole work of DATENSTRUDEL and on the other hand to offer visitors of the web site the possibility to select projects by means of a menu of criteria.
The page layout, formats and designs are preset with CSS. Additionally the whole web site is optimized for parsing by Internet search engines.
---
24.02.2006
Market launch of library management software Libri.net
First installation at the school library of the "Förderverein der Märkischen Grundschule e.V." Berlin
Libri. net is a feature-rich and powerful library software application managing member/ patron information and all library collection records. It offers catalogue and local-search functions of the library database and keeps track of the library circulation data such as check-out and check-in transactions or reservations. Because Libri.net is Web server driven, it can be used on the network out of the box. By means of a Web browser (WebOPAC) the library data can be accessed from any computer on the network. The maximum number of records in the database is limited only by the computer hardware used by Libri.net. The reports manager generates complete/abstract bibliographies as well as listings of late check- ins in the printer-friendly PDF document format; that is the same as for title labels and patron account listings. Libri.net has also a backup feature to protect your library data.
Quoting Mr. Ahrens of the "Förderverein der Märkischen Grundschule": "With the installation of Libri.net we could manage all processes in our library without further investment in new computer hardware. The convincing feature of Libri.net is that the school pupils are able to access the library database from all classrooms now. . Online access to the library from home is even envisagable in the near future. Libri.net offers comprehensive functionality with an interface that is even user-friendly for elementary school pupils and may be ported effortless to any future computer or operating system due to its Web server integration."
In the "Märkischen Grundschule" about 600 patron accounts and about 2000 media have to be managed. Libri.net is running there on a PC with Windows 2000 Professional at 200 MHz and 128 MB RAM.
---